Egyptian President Hosni Mubarak on Thursday disproved rumors that he would immediately resign from his position, saying he would remain in office until a successor is chosen in September elections. Mubarak said that he would not be the subject of foreign pressure.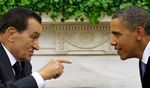 Mubarak said "I have expressed with all clarity that i do not intend to stand down" amid rumors that he would resign during his address to the nation. Egypt president says in live address on state TV that he plans on transferring authority to his deputy, but is not resigning from official position as president of Egypt.
Mubarak said that he was saddened by the deaths of 'martyrs' that had died during protests and that there deaths would not be in vein or go unpunished.
President Hosni Mubarak said on Thursday Egypt was heading "day after day" to a peaceful transfer of power and he was committed to protect the constitution until that happens. He said he was proposing amending articles 76, 77, 88, 93 and 189 of the constitution and proposed cancelling article 179 giving powers regarding terrorism cases. He said dialogue with the opposition had led to a preliminary consensus to resolve the crisis. Protesters in central Cairo's Tahrir Square waved shoes in dismay at President Hosni Mubarak's speech to the nation on Thursday, witnesses said. Protesters also chanted, "down, down with Hosni Mubarak," and "leave, leave," in rage at the speech in which the president did not step down but handed over powers to his vice president.(23,03)